"DSTWO iPlayer" is a media player for DSTWO. It full use the
internal cpu of DSTWO, so you can play RMVB/AVI/FLV and etc video format files
and MP3/APE/FLAC and etc audio files directly with DSTWO, no converting
anymore!
How to install:
Download and unzip, then copy "DSTWO iPlayer" and
"_dstwoplug" folders to the root of your microsd card.
Note: you can put media files anywhere you want.
Supercard team just release their promise Dstwo movie player that utilizes the hardware CPU to play RMVB/AVI/FLV files in your NDS so I have taken some time to test out this new video viewing option in the DSTWO.
First I decided to compare it to moonshell 2.0 I took a a episode of justice league that I have and drop it in my dstwo note that the episodes is encoded in avi 640 X 480 them I took the same episode and converted it to DPG4 256 X 196 below you can see the videos of the two in action
What I was able to learn was that they don't look that different but the moonshell video look a little better not only that but I felt it smoother and there was not as much artifacts as the iplayer Video the sound was the same that is to be expected cuz theds haves it limits
Now i will compare Moonshell to the iplayer
Look
Iplayer : is a nice GUI looks ok nothing special
Moonshell : Same it looks ok nothing special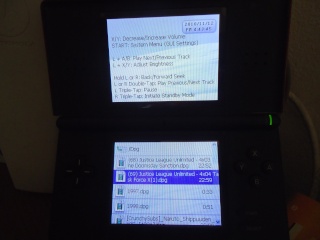 How responsive are the controls
iplayer : i feel sometimes that the controls lag while using The iplayer like they are heavy.
Moonshell : They are responsive and feel light.
Video quality
Iplayer : well is almost what you expect in the ds but i feel as it lags and it is jumping frames
also the artifact are more noticeable for some reason.
Moonshell : To me moonshell uses the ds video as much as a 256 X192 screen makes it possible
Sound
Iplayer : is good it plays what it say it can play and the sound in videos is as as good as the ds allows it to be and the mp3 too.
Moonshell : well same goes for moonshell it uses the ds sound as much as the ds allows it to be.
Following I answer some of the question i think people will ask.
Can it play RMVB/AVI/FLV and etc video format?
Yes it can play them I tested every single format.
Can it play MP3/APE/FLAC and etc audio files?
Yes it does play them.
Can it play DPG files?
Sadly not if this thing would have been able to do that them I would have made it my default movie player.
Is the quality better that in moonshell?
To be honest is almost the same I know that the ds haves its display limit but to me moonshell videos look better.
How's the music playback?
To be honest to me is the same I prefer playing music in moonshell
Whats the ideal resolution for videos?
i say below 640 X 480 and even the i find lag problems.
Well i see that the iplayer can play videos but how stable is the playback?
well sometimes i feel like the iplayer is jumping frames and it i felt lots of lag on some videos and some videos like FLV and RMVb dint want to even run.
So is it better that moonshell?
in the aspect that can run other files formats is a win but the fact the playback is so unstable and the quality is not that different makes me say that moonshell is still better
FINAL Verdict
is a nice option for those that don't like moonshell but moonshell video playback to me is still the best one the videos look better an is more stable.